Best Procedures For 30's: Halo® By Sciton
Generally, throughout your teens and 20's the enjoyment of fun in the sun probably did not register with you that there could be a lasting detrimental effect to your skin. Over time, the damage from ultraviolet rays can show up as lines, creases, wrinkles, discoloration and dullness. As you enter your 30's, you may begin noticing these changes in your skin resulting from your youthful choices. While the level and type of skin damage from overexposure to the sun varies, Halo® by Sciton laser treatments can be customized to meet specific needs. Our Pittsburgh professionals at AcquaBlu Medical Spa carefully consult with each patient to plan each Halo® by Sciton laser treatment to address the patient's unique situation.
With UV damaged skin, the epidermis shows visible evidence while damage to the dermis is unseen. Halo® by Sciton is a hybrid laser which combines two laser frequencies into one treatment, to stimulate healing in both the dermis and epidermis. Laser treatments have been proven to break down discoloration, remove fine lines and restore skin tone. (Europe PMC, Mayo Clinic, MedlinePlus) In the past, laser treatments were performed using either ablative lasers or nonablative lasers. Halo® by Sciton combines the two. Because ablative lasers remove a thin layer of skin they require a period of recovery time. Nonablative lasers produce a more gentle stimulation and repair the skin over an extended period, so recovery time is minimized. Our Pittsburgh dermatologists at AcquaBlu Medical Spa are able to adapt the level of the laser treatment to target your specific area of concern and go to the exact depth necessary to restore the luminous glow of your youth. (Europe PMC, Mayo Clinic, MedlinePlus)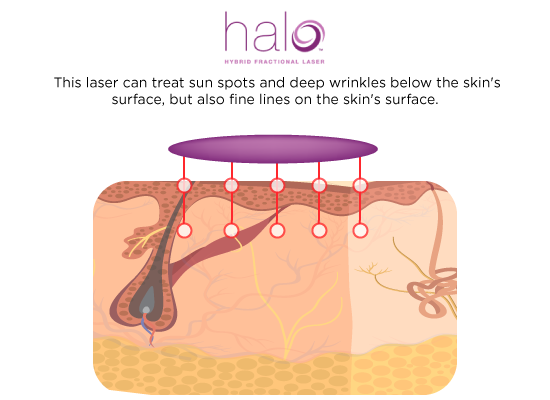 WHAT ARE THE BENEFITS OF
HALO® BY SCITON
FOR UV DAMAGED SKIN
Complete skin rejuvenation treatment can improve the appearance of your skin whether your damage is severe or minor. Nonablative lasers allow for a quicker recovery and little to no down time if that is most important to the patient. Halo® by Sciton combines the qualities of the ablative and nonablative laser treatments into a hybrid technique which gives a flexible range of therapy and length of recovery times. Overexposure to the sun's ultraviolet rays accelerates the aging of your skin in at least two ways. The sun causes dark spots by activating chemical o-DOPAQUINONE within the skin, which then affects melanin (pigment) production. UV rays also weaken the connective tissues, reducing the skin's strength and elasticity.  Halo® by Sciton treatments are able to diminish the visible signs of sun damage from either pathway. Halo® by Sciton laser treatments can smooth your overall complexion and improve the reflectivity of your skin. It restores a "glow" and the results can last for years. (Europe PMC, Mayo Clinic)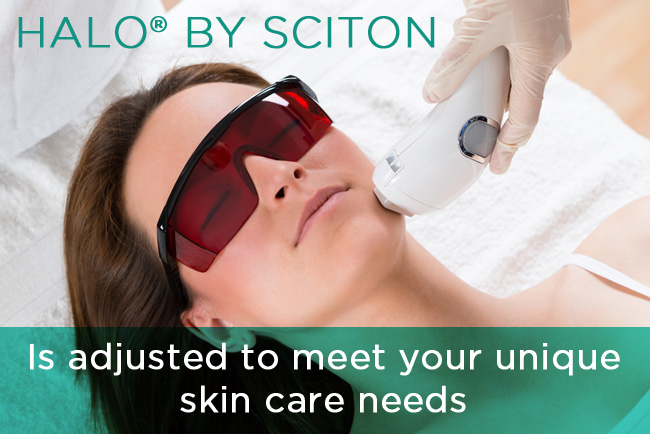 In the past, patients had to choose between a laser treatment that did not require much, if any, recovery time, but might not fully treat their skin damage and a more aggressive laser treatment that removed a layer of skin, necessitating a recovery period. Now, patients don't have to choose because Halo® by Sciton combines the benefits of both treatments. The Acqua Blu Medical Spa was the first dermatology, and medical spa in Pennsylvania to offer this cutting edge hybrid treatment. Halo® by Sciton at Acqua Blu Medical Spa allows our patient's treatments to be adjusted and varied to meet their unique skin care needs. Our highly trained Pittsburgh professionals, Dr. Brian V. Heil and Dr. Ana Busquets thoroughly consider each patient's individual history and concerns when developing their laser treatment regimen. In a consultation with Dr. Heil and Dr. Busquets, the benefits and risks associated with Halo® by Sciton laser treatment will be discussed so that you can determine if Halo® by Sciton at Acqua Blu Medical Spa is the right choice to repair your sun damaged skin.
HOW IS A
HALO® BY SCITON
LASER TREATMENT PERFORMED?
 Halo® by Sciton at Acqua Blu Medical Spa is a specialized laser treatment that targets our patient's individual areas of concern. The treatment begins with application of a topical anesthetic to reduce any uncomfortable sensations during the procedure. Areas in need of treatment and the depth of the damage in the skin are identified and measured. Each measured section is treated by gently rolling the Halo® by Sciton handpiece over the skin emitting quick pulses of laser energy until the treatment is complete. Halo® by Sciton laser treatment is ideal as the handpiece passes over each area of concern only once, making it a safe and quick procedure that yields satisfying results. Recovery time varies depending on the level of treatment.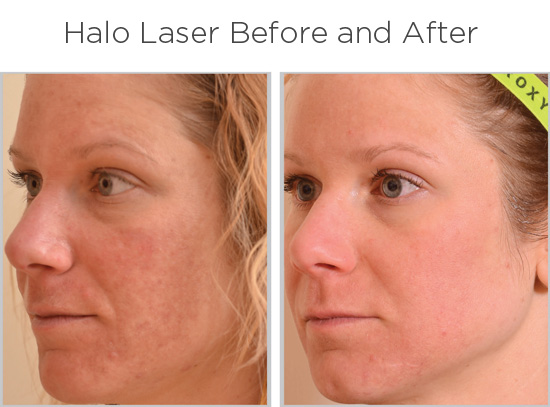 WHY IS
HALO® BY SCITON
LASER SKIN TREATMENT IDEAL FOR PEOPLE IN THEIR 30'S?
Some of the carefree lifestyle choices made in your teens and 20's may work their way to the surface as you reach your 30's. In your 30's, your skin changes and you may notice thin red lines, discoloration, or lack of tightness in your skin. Halo® by Sciton at Acqua Blu Medical Spa can reverse these changes done by the sun and bring back your natural glow. Halo® by Sciton is ideal for those in their 30's for treating the undesirable evidence of sun damaged skin as it first appears. Early treatment with Halo® by Sciton may prevent skin lesions from progressing to the point that they require a more intensive solution.
BOTTOM LINE
The skin damage caused by overexposure to the sun varies from patient to patient. Now, there is a laser treatment that can be customized to your dermal and lifestyle needs. Our professional team at the Acqua Blu Medical Spa at Premier Plastic Surgery & Dermatology will provide you with a comprehensive analysis of your skin's damage, thoroughly discuss your concerns and customize your unique Halo® by Sciton laser regimen. To schedule a consultation at our Acqua Blu Medical Spa with our Pittsburgh doctors Dr. Brian V. Heil and Dr. Ana Busquets, please contact us at (724) 933-1800 or send us an email.