This results in a collagen deficiency, causing the skin to lose its smoothness and form discolorations, lines, and wrinkles. That's why we offer laser skin resurfacing at Acqua Blu Medical Spa in Pittsburgh. This treatment stimulates the skin into building up its collagen reserves.
Pittsburgh MicroLaser Peels
These treatments can vary in depth depending on the patient's aesthetic goals. Shallow treatments are sufficient for getting rid of sun spots and fine lines—as well as perking up tired-looking skin—whereas deeper treatments can address crow's feet and deep wrinkles to improve the overall tone and texture of the skin.
At Acqua Blu Medical Spa, our providers know that everyone's skin is different and has varying tolerances for heat, cold, and friction. Utilizing the safest, most customizable and precise lasers on the market (Sciton lasers), we offer these effective treatments that can be matched to your individual needs.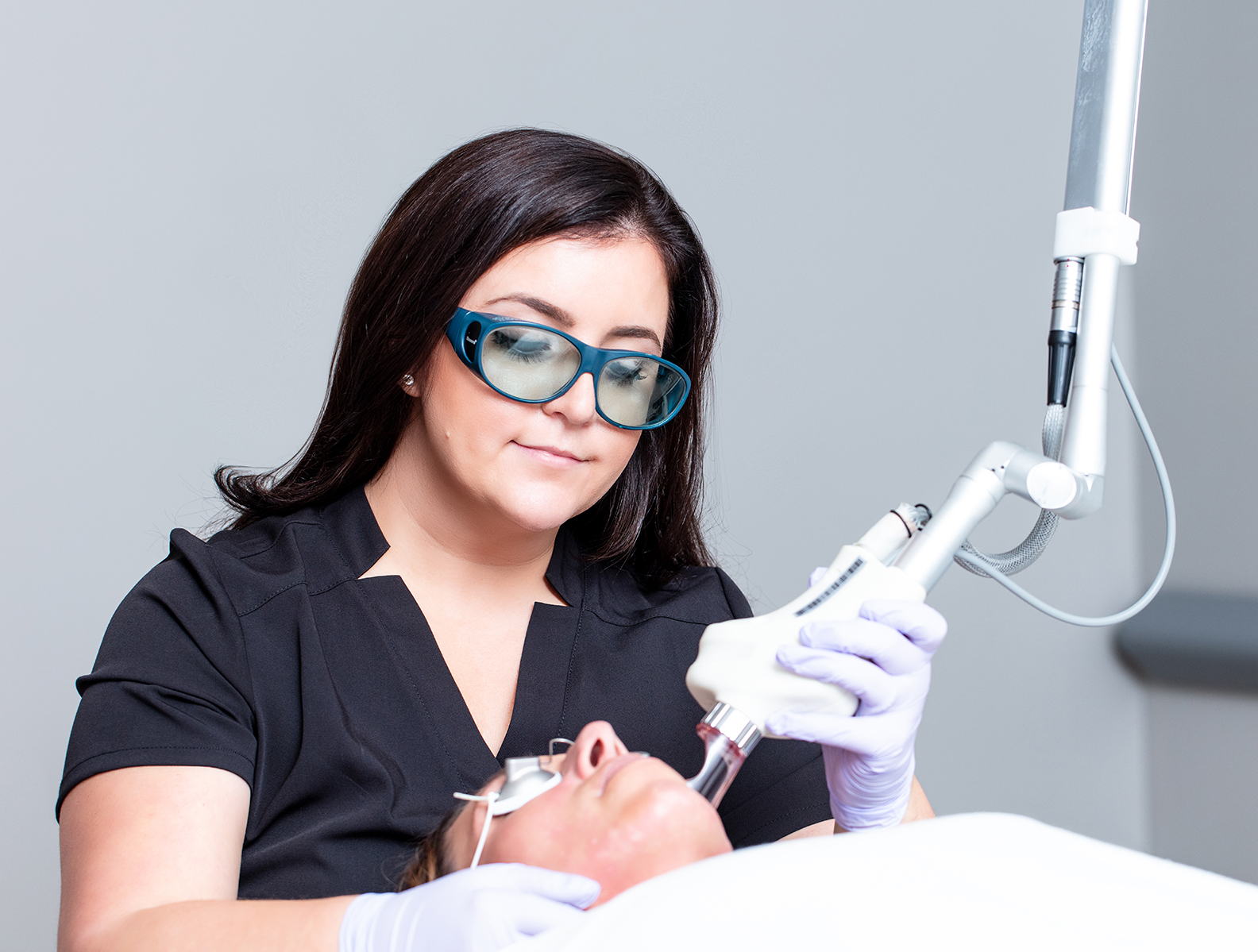 ProFractional Resurfacing
For correcting multiple unflattering surface skin issues such as blemishes and skin damage, Acqua Blu Medical Spa offers ProFractional skin resurfacing. This procedure improves uneven pigmentation or sun damage; diminishes acne scars, skin lesions, stretch marks, or sun spots; tightens the skin, and eliminates wrinkles and fine lines. ProFractional skin resurfacing requires little downtime, and can be used to treat most areas of the body—as well as any skin type. Unlike full-field resurfacing, ProFractional resurfacing creates numerous tiny, deep columns in the skin, covering only the area that needs improvement.
What is the cost for laser skin resurfacing?
Laser skin resurfacing costs will vary from client to client, depending on the regions treated and the surface area covered. We will provide you with a detailed quote at the time of your Pittsburgh consultation.
ProFactional laser treatments $1000-$2000
---
ProFractional
Resurfacing Treatment
During treatment, the resurfacing action activates the body's "wound-healing trigger" response and replaces damaged cells with new, healthier tissue. This improves the skin's firmness and resilience. Although our Pittsburgh laser skin resurfacing can treat any area of skin on the body, it's typically used to treat the skin on the face, neck, hands, and/or chest. The entire procedure takes about 30-45 minutes, depending on the area treated.
ProFractional
Resurfacing Results
Usually, one or two ProFractional resurfacing treatments are enough to see considerable improvement in the look and feel of your skin. However, the number of treatments necessary to see results may vary from one patient to the next. Immediately after your procedure, you may experience mild redness and a slight tingling sensation that feels similar to a sunburn.


Schedule a Consultation with Us!
If you're interested in a MicroLaser peel or laser skin resurfacing in Pittsburgh with Acqua Blu Medical Spa, contact us today to see if you're a good candidate treatment.
We offer a complimentary consultation where you can learn more about our Pittsburgh MicroLaser peel treatments, as well as our other skin resurfacing options.