Best Procedures For 30's: Restylane®
In your 20's, it's easy to have great looking skin. Falling asleep with your makeup on or forgetting to apply sunscreen occasionally won't have a noticeable impact on your looks. However, as you age into your 30's, this is no longer the case and a more conscientious effort to care for your skin needs to be made. In fact, the best time to seek help for preserving your appearance is when you first notice fine lines, before they become serious creases and significant folds. If the natural lines of your facial expressions are still visible when your face is at rest, consider an early intervention. Often, injection of a dermal filler can clear undesirable facial lines and smooth out your skin again. Acqua Blu Medical Spa offers a variety of med spa procedures that can help you begin your wrinkle fighting regimen now, allowing you to age a little more gracefully and with less stress.
Restylane® is a non-animal, biodegradable gel form of hyaluronic acid and was FDA approved as a dermal filler in December of 2003. It provides for safe and effective soft-tissue augmentation by acting as a cushion beneath the surface of the skin. Restylane® has emerged as the most widely used facial filler in North America and is routinely injected into the areas of concern to diminish the visible signs of aging. The main components of healthy skin are water, fat, collagen, and hyaluronic acid. Hyaluronic acid is a natural sugar found in many soft tissues, but most abundantly found in the skin. Its primary function is to give skin structure, volume and pliability by drawing water into the skin. This characteristic makes hyaluronic acid based dermal fillers, such as Restylane®, ideal for the treatment of facial lines. After Restylane® injections, skin has a smoother, rejuvenated appearance. (Clinical Interventions in Aging, Dermatologic Surgery, Dermatologic Therapy, Facial Plastic Surgery Clinic North America, Plastic and Reconstructive Surgery)

WHAT ARE THE BENEFITS OF
RESTYLANE®
?
Aging causes anatomical changes resulting in the loss of soft tissue volume in facial skin. Restylane® injections at Acqua Blu Medical Spa in Pittsburgh can promote smoothness in the natural contours of the face to give a more youthful appearance without surgery. It can be used to treat several different signs of aging, such as frown lines, drooping corners of the mouth, thinning lips, sunken acne scars, nasolabial folds, or lip lines. Injections of Restylane® enhance the volume in the soft tissues of facial skin for three to five months. The procedure allows immediate return to normal activities. The hyaluronic acid base of Restylane® is naturally found in our bodies and provides volume and fullness to the skin that appears more natural. (Clinical Interventions in Aging, Dermatologic Surgery, U.S. National Library of Medicine)
WHY CHOOSE 
ACQUABLU MEDICAL SPA
FOR YOUR
DERMAL FILLER
NEEDS?
The Acqua Blu Medical Spa in Pittsburgh is a results-oriented medical day spa providing the most advanced medical treatments in a pampering and relaxing environment. Because  Restylane® is one of the most commonly used methods in the treatment of undesirable lines and wrinkles, the professionals at The Acqua Blu Medical Spa are skilled and efficient. Dr. Brian V. Heil and his team pay special attention to the care and needs of each patient while providing the highest quality procedures.
HOW IS THE
RESTYLANE®
PROCEDURE PERFORMED?
At Acqua Blu Medical Spa, our patients' care and comfort are top priority. The team will develop a strategy that addresses each client's unique goals. Restylane® is a quick, non-surgical procedure but still requires attention to the details that prevent infection at the injection sites. Topical anesthetic is applied to the areas of treatment determined in consultation. After which, injections of Restylane® are administered directly into the creases and lines that are to be leveled. Each injection lasts mere seconds. The injections of Restylane® require only a few minutes to perform, depending on the patient's goals. Patients are then given a cold compress to apply to the treated areas to reducing any possible swelling. Patients may resume normal activity the same day at their procedure.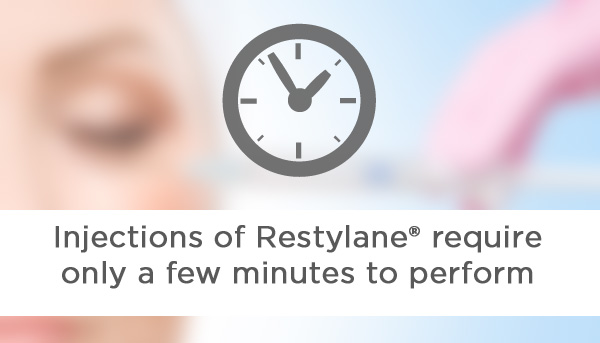 For more information, please click here to watch Dr. Brian V. Heil's video.
WHY IS
RESTYLANE®
IDEAL FOR PEOPLE IN THEIR 30'S?
Traditionally, facial rejuvenation relied on surgically tightening the skin after visible signs of aging became prominent, primarily in people aged 40 and over. This is no longer the case. Health care practices now employ a preventive strategy regarding facial rejuvenation, beginning treatment at the onset of the undesirable signs of aging. Injectable soft-tissue fillers have become an integral part of contemporary facial plastic surgery practice. Avoiding "down time" for recovery is usually a priority for people in this busy decade of life. With a focus on preventive care, effectiveness and efficiency in facial treatments, Restylane® is ideal for those in their 30's who are just starting to notice lines and wrinkles caused by aging. (Current Opinion in Otolaryngology & Head and Neck Surgery, Journal of Plastic, Reconstructive, & Aesthetic Surgery, U.S. National Library of Medicine)
BOTTOM LINE
The aging process can occur gracefully. Beginning a preventive treatment regimen at the onset of noticeable wrinkles and lines, is your best defense against the unwanted signs of aging. Our team at Acqua Blu Medical Spa can provide you with a careful analysis of your face and discuss your concerns to determine whether you would benefit from Restylane® or other treatments. To schedule a consultation at our Acqua Blu Medical Spa with our board-certified Pittsburgh surgeon Dr. Brian V. Heil, contact us at (724) 933-1800 or send us an email.