BroadBand Light Therapy: The Number One Post-Summer Treatment at Acqua Blu
Take years off your complexion with BroadBand Light Therapy (BBL). This gentle, noninvasive, and safe procedure will erase sun spots, age spots, redness, and more across your body. If you have been out in the sun all summer long, now is the time to rejuvenate your skin with BBL.
BBL uses state-of-the-art technology to make your skin firmer and more even in tone and texture, creating a fresh and youthful appearance. This FDA-cleared treatment commonly treats conditions such as:
Vascular Lesions (small blood vessels)
Pigmented Lesions (freckles and age spots)
Acne
Uneven Skin Texture
Skin Firmness
How Does BBL Work?
This treatment uses near-infrared light energy to gently heat the top layers of your skin, stimulating your body to create new collagen and restore your skin's natural beauty. The photothermal energy will blend the natural colors of the skin and make it smoother, more vibrant, and younger looking. This procedure will also eliminate the small blood vessels that cause redness and reduce the melanin that causes freckles and age spots.
At the same time that the skin is heated, the machine's contact cooling system will pull heat out of your body. This ensures minimal discomfort so that most patients do not even need topical numbing cream during this treatment.
What Areas Are Commonly Treated?
BBL can treat any area of your body. Since most damage is caused by sunlight, however, the most popular treatments are done on the:
Face
Neck
Shoulders
Hands
Chest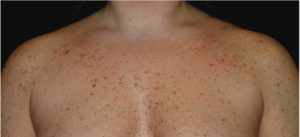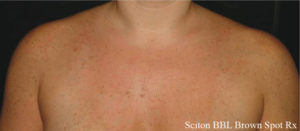 A Pre-BBL (left) and Post-BBL (right) chest after a treatment performed by Dr. Heil of Acqua Blu Medical Spa.
How Many BBL Treatments Do Patients Need?
For the best possible results, experts recommend that patients come in for two to four BBL treatments each year. The precise number of treatments will vary based on the results that you desire.
What Should Patients Expect After BBL?
Immediately after treatment, patients may notice mild redness and the sensation of a mild sunburn. This side effect will go away in one to two days. Treated areas will start to look healthier several days after treatment, and age spots, sun spots, and broken blood vessels should clear up in just one to two weeks.
Are You Interested in Rejuvenating Your Skin with BBL?
If you are planning to restore your clear, youthful skin with BBL, then you should contact Acqua Blu Medical Spa. Our skin specialists in Pittsburgh, PA offer cutting-edge, non-invasive cosmetic care that will enhance your appearance and boost your confidence. To find out more about BBL and our other spa services in the Pittsburgh, PA area, please call 724-269-2726 today.