What Are the Best Non-Surgical Treatments for Wrinkles?
The best non-surgical treatments for wrinkles can be found at Acqua Blu Medical Spa. We offer advanced treatment options that a highly-skilled medical professional will review with you. These treatments can range from various skin procedures, the use of lasers, and different forms of injectables.
Years ago, it used to be that you'd have to schedule a visit to a plastic surgeon if you wanted to enhance your facial features, eliminate wrinkles, and turn back the clock. Thankfully, aesthetic medicine has evolved significantly in the last decade, allowing us to achieve similar results with non-invasive treatments that require no general anesthetic, no surgery, and no downtime.
As the premier provider of a diverse range of skin solutions, treatments, and specials, Acqua Blu Medical Spa's skin treatment experts in the Wexford, PA, area understand that you may not want to opt for surgery, but would instead prefer a non-surgical treatment for your wrinkles. And with our skin treatment options, there are plenty of alternatives to choose from. Let's take a look at some of the most effective and popular ways to treat your wrinkles without surgery.
What Causes Wrinkles?
To understand how and why our non-surgical solutions work to treat your wrinkles, let's first talk about wrinkles themselves and what causes them. The process of aging manifests itself in a number of ways. For instance, a loss of fat volume, a loss of bone structure, expression lines, and yes — wrinkles — can occur. There can be other factors that play a role in the formation of wrinkles as well, including sun damage and gravity, just to name a few.
Because of all the distinct types of skin and skin issues that patients experience, there typically isn't one single treatment that can address them all. In fact, it's precisely why our doctors offer a vast array of treatment options to help reduce the appearance of wrinkles and restore your skin's healthy, supple glow.
Review the three most popular categories of non-surgical wrinkle treatment options below, and then continue reading as we delve into each one: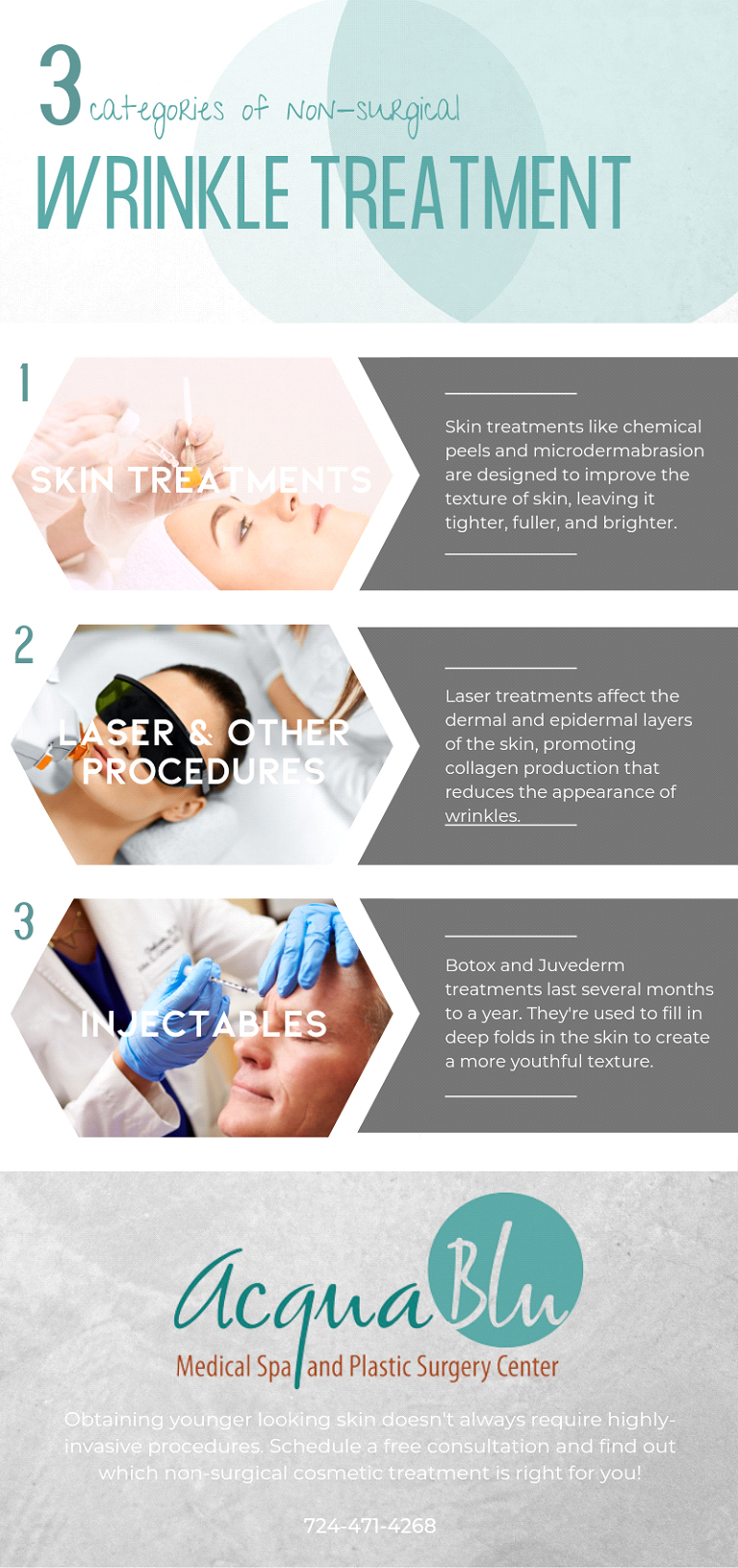 Skin Treatments
Chemical Peels
Chemical peels have become an effective way to treat wrinkles, fine lines, and even skin discoloration. We feature a complete line of Mesoestetic chemical peels, which use a combination of exfoliating agents that cause dead skin cells to peel off when applied. Not only can our Mesoestetic chemical peels reduce wrinkles, small scars, discoloration, and sun damaged skin, but they can also promote and stimulate collagen production, which results in tighter, fuller skin.
Microdermabrasion
This type of treatment utilizes fine crystals to help "sand" the face and remove dead skin cells from it. As a virtually pain-free process, microdermabrasion decreases the appearance of fine lines and wrinkles and helps to improve your skin's overall texture, all without the need for surgery or anesthesia.
Laser and Other Procedures
Laser
These procedures rely on the use of heat applied to both the dermal and epidermal layers of the skin, which, in turn, causes the body to respond by producing more collagen in those areas. When collagen production increases, it helps to thicken and plump the skin, resulting in fewer wrinkles, acne scars, fine lines, and even stretch marks. Laser skin therapy also improves skin tone and tightness, and works to enhance its texture as well.
Sciton Laser
This type of treatment improves skin imperfections using a laser beam across the affected area. During this resurfacing procedure, a layer of the skin is safely removed, which causes the skin to naturally replace it with a healthier layer of skin. It's used to treat an array of skin issues, from discoloration and wrinkles to texture and tone.
Injectables
Botox
When injected into the skin, this popular treatment "paralyzes" the skin and prevents it from creasing, therefore eliminating wrinkles from expression lines such as frown lines and surprise lines. When injected by a medical professional, Botox can significantly smooth these lines and inhibit them from becoming more prominent. Additionally, Botox treatment can last several months or more, especially if combined with continuing treatment.
Juvederm
By injecting natural filler materials under the skin, dermal fillers like Juvederm can help to fill in deep folds like smile or laugh lines, decrease wrinkles, create fuller lips, and even plump up hollow cheeks. Dermal fillers don't just tighten and smooth the skin; they're so effective that they can actually change your profile to appear more youthful and supple. Juvederm treatments can last up to a year, making them a perfect long-term non-surgical solution to enhance your skin's appearance.
Whatever your skin tone, skin type, or goals, the professionals at Acqua Blu Medical Spa can help you reduce your wrinkles and restore your skin's healthy and youthful glow, all without the need for surgery or invasive procedures. For laser skin treatments in or around Pittsburgh, PA, reach out to our experts to see what options are right for you. For more information or to schedule a consultation, call us today at 724-269-2726.