What is the Best Method of Tattoo Removal?
The PicoWay™ Laser is the best method of removing a tattoo once-and-for-all. It far outstrips other methods, such as IPL, do-it-yourself creams, or tattoo cover-ups. PicoWay™ is effective, fast, and virtually pain-free, producing much better results than traditional lasers and with half as many sessions.
As your skin specialists in Pittsburgh, PA, Acqua Blu specializes in the use of PicoWay™ Laser for tattoo removal. However, having read the spoiler to the end of the story, let's take a step back to see how we got here.
Common Reasons for Regretting Tattoos
Let's face it, many of us love tattoos — however, it's not always a love that lasts, at least for some of us. According to reports, as many as 4 out of 10 American have at least one tattoo, even though many of those who have opted for ink end up having regrets later in life.
Common causes for a change of heart are as diverse as the tattoos themselves, ranging from concerns about looking professional for job interviews to a desire to erase the name of a former boyfriend or girlfriend, whose moniker is now an unwelcome reminder. This is nothing new, either; attempts at tattoo removal have a long history, and it was far from unheard of in earlier decades.
The Benefits of PicoWay® Laser Tattoo Removal
Laser removal is the most popular approach to removing tattoos, and for good reason. With today's technology, lasers have been refined to effectively remove tattoos without leaving behind any trace of coloration or scarring.
Embodying the latest in laser treatment, PicoWay® is highly successful at fulling removing tattoos for multiple reasons:
Requires Fewer Treatments
PicoWay® laser treatment requires fewer sessions for tattoo removal than traditional treatments, helping you to quickly remove a vast range of tattoos. In contrast to older lasers that operate by the nanosecond, PicoWay® functions at picosecond speeds, delivering pulses of light at a trillionth of a second.
Delivers Quick Results
As a powerful laser technology, PicoWay® works by shattering ink particles, allowing your body to naturally remove the tattoo ink and leaving the skin noticeably clearer. The majority of patients see results in half the sessions of traditional laser treatment for tattoo removal.
Less Discomfort
Because PicoWay®'s high-powered laser pulses are faster than older methods, such as Q-Switch lasers, you'll experience almost no pain during the procedure. The degree of discomfort will vary from one person to the next, depending on the nature and location of the tattoo.
Safe for All Skin Types
Because it operates at such high speeds, PicoWay® produces less heat, preventing it from causing skin discoloration during treatment and making it ideal for different skin types.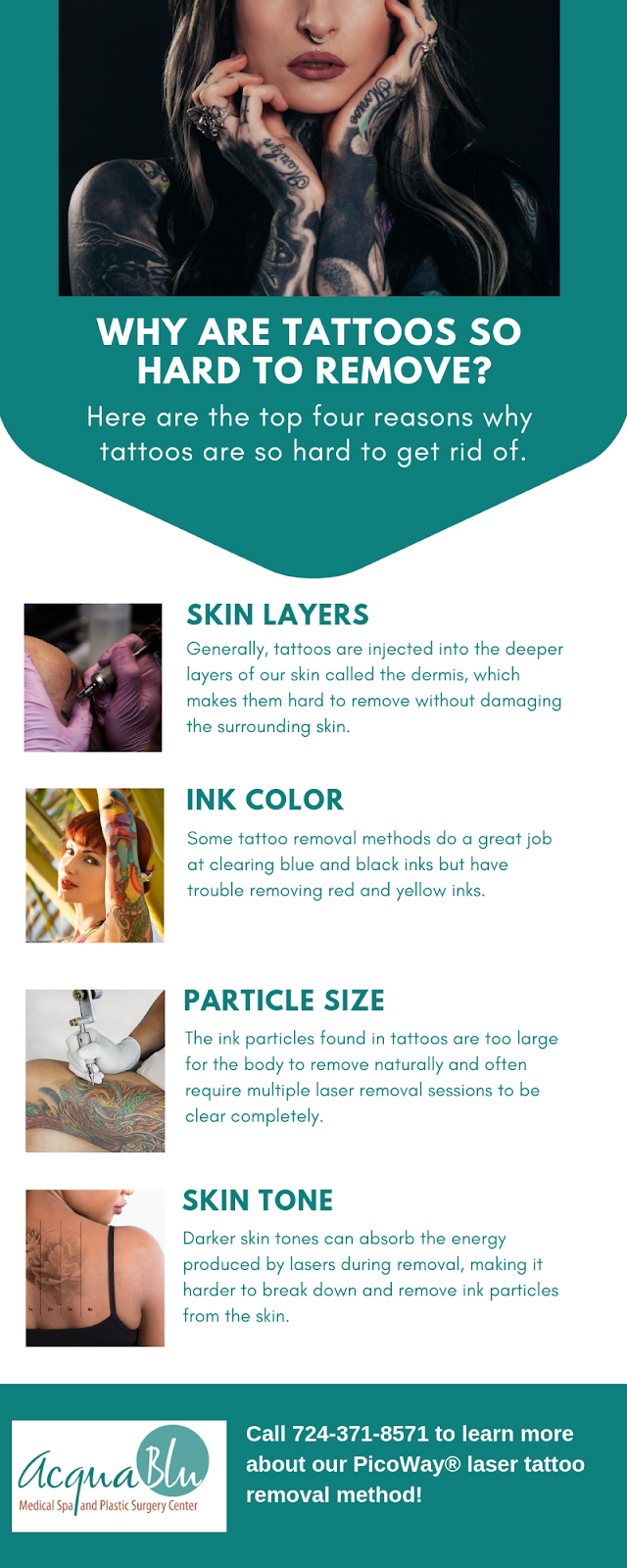 Ouch! Avoid These Other Methods of Tattoo Removal
In another time, many people would remove their tattoos using some rather extreme methods — or at least attempt to. One such technique, known as salabrasion, involved rubbing a salt solution into the skin, heating it up, and scraping it away.
In another removal method known as dermabrasion, the skin was simply scraped off or sanded away. Both salabrasion and dermabrasion were frequently successful in removing the tattoo, but often left scars in its place.
The other route was just to have the tattoo surgically cut out as the surrounding skin was sewn back together, which is also not for the light of heart.
In the realm of tattoo removal, there are other methods that, unfortunately, do not deliver the desired results, particularly for notoriously stubborn tattoo colors, such as green and purple.
Other less-than-effective methods include:
Intense Pulsed Light Therapy (IPL)
IPL works wonders for loads of skin problems; however, IPL's combination of applied gel and pulses of light are frequently not strong enough for something as deeply embedded as a tattoo.
Cream Removals
The market is filled with gels and creams that, according to claims, can remove tattoos when applied daily for a number of months. While some individuals find success with these methods, the results are less than satisfying more often than not.
Cryotherapy
This procedure involves freeze-burning the skin with liquid nitrogen. Although commonly use for warts and skin tags, most experts advise against using cryotherapy to remove tattoos.
Saline Fading
This involves injecting the tattooed skin with a saline solution and is used to fade tattoos. Although it can be somewhat effective with older tattoos, it will not remove them entirely and the method's effectiveness is controversial.
Tattoo Cover-ups
Another method of dealing with an unwanted tattoo is to simply cover it up with a new one. Although many tattoo artists are becoming quite skilled in this, it doesn't provide relief if your goal is to be tattoo-free.
Myriads of tattoo-removal procedures have been devised over the decades, some more effective and worthwhile than others. Whatever your reason for de-inking, the cutting-edge PicoWay® laser technology is your safest route to returning to your tattoo-free days.
To learn more about our tattoo removal or spa services in Pittsburgh, PA, call our specialists today at 724-269-2726.